Our recent review is from
Adventus which is a Homeschool Music Curriculum.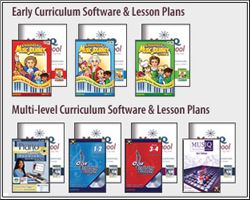 We
were
recently blessed with the chance to use this MusIQ HomeSchool software. I gotta say, I was really excited to be selected to use this software because we had just started music lessons and instrumental lessons at that. Having this chance was super. However, I have to give my honest opinion in this review. No matter how much our family was excited to use this software, we did have a few issues. (sounds bad, I know.. Grr)
Truthfully, I was really disappointed with the installation of this software. At this point, I pin no blame on anyone or thing! I really would not know which way to point.. I am a computer savvy person and so is my husband. But when it came to the download of this software it really was a pain in the patuty... Once we first received the links to download, I went ahead with the install process. (Just in case this is asked, Yes, m
y computer fit the software description for installation.
However, for some reason it still did not want to properly download. After displaying multiple errors and file is harmful to computer notes, I decided to pick another one to download, to see if it give me the same problem. Same problem! So long story short, I sent an email off to the technical support address we were given. I didn't get a reply back to my first email but I did my second one at the early part of the following week. (No complaints as I knew that there were already previous glitches noted in the forum and they were working to fix them, so I was every bit patient.)
Long story short, the tech said, it sounded like the problem may of been in the link for download. No worries, he resent me an email with new download links which seemed to fix this problem as far as the installation went. Everything was all ready to go, so we thought. (Head in palm, grrr..) My computer decided it had had enough of these files, so it hid them from us after the download, even after we specified where to put the files... I mean seriously! Another long story short after a full day of searching hard for the software, Finally it was found and the kids were able to begin their fun on this software.. Now all I have to say is, sigh and whew! But it's still all good!
So now that I got that off my mind, I can post on this software and give you my honest review, (smiles big). We used the Children's Music Journey Volume. Right now this software individually bought is $69.95 per volume

.
When you purchase
all 3 volumes together it retails $208.85 you can get it right now for $179.85
.
Best of all for some, you don't have to wait for your curriculum in the mail. N
ow you have the option to download the software vs purchase the disc's.
You can also get a
Monthly Subscription
(lesson plans not included)
for $10.95
or
$131.40 per year
and there is a
FREE 7 day Trial available.
While I am noting the price, I wanted to let you know that right now --
Adventus
is offering their MusIQ Homeschool the
Children's Music Journey --->> volumes 1, 2 and 3 together with a MIDI Keyboard ($279.80)
and you can
save
$50.00 when you place your order. You also have an option to purchase just Volume 1 and the MIDI Keyboard ($169.95).
Also, although this is not a part of our review, you might want to check out the homeschool early curriculum.
Here are the current prices noted as per their site --->> at the time of this review.
Year 1 Quick Start Bundle includes CMJ 1 and lesson plans + 49 MIDI Keyboard - $199.95
Year 1 includes CMJ 1 and lesson plans - $89.95
Year 2 includes
CMJ 1 and lesson plans - $89.95
Year 3 includes
CMJ 1 and lesson plans - $89.95
Year 1-3 Bundle includes CMJ 1, 2, 3 the MIDI Keyboard Level 1 Lesson Plans - $309.95
Year 1 Lesson Plans - $29.95,
Year 2 Lesson Plans - $29.95,
Year 3 Lesson Plans - 29.95
Thankfully, We did not need to worry about the keyboard as we already had one. We did however need to purchase this USB MIDI Music Cable Converter (Amazon). You will need this to plug your keyboard to the computer for some interacting and fun. (smiles)
So I have established my technical glitches, price and some details on the
Children's Music Journey Volume.
This software for children ages 4-10

. (They do offer software for older ages on their website).
There are 25-35 lessons within this software, depending on what level you are using.
Adventus
is the
developer of Piano Suite and Children's Music Journey Curriculum. Their software teaches children all about music, history of music, composers and how to play the piano. Each level has a different composer teaching. This software curriculum includes: lessons, practice sessions

(that you can review as often as needed)

, learn to play pieces, games and best of all your kids will get to create their own musical piece.
In exchange for this review we received a one year subscription that I fully intend to take advantage of. Yes, we really like this software.
(I just want to note, Though I had trouble with the installation, this may not be the case for everyone else. Again not pointing the fingers any direction because it could of been glitches on both ends.)
What happens when we get the software downloaded?
I am going to show you a few step by step pictures, so bare with me. Once we got the software downloaded our screen looked like this picture below.
Here we clicked on "NEW" and made our name and password. After we did this, we were able to log in and go to the next screen. The next screen will look like the one below.
This picture to the right is what the next screen will look like. >>
In the picture to the right, you can see the center circle is lit up green. That will be our first lesson. However, I recommend to you, holding off on that. We needed to go over to the bottom right corner where the other green circle is. Clicked that open and checked our settings. The setting check will ensure that we have your keyboard properly hooked up. You can see what that screen looks like in the next picture I have added.
This is the next screen that pops open after we
clicked on the bottom right corner, green circle. It will look just like this picture here to the left. <<
What can I do on this page: Here we clicked an icon to set on our log in screen. This is optional. The icons of
choice were musical instruments or facial images. Off to the right is the level settings. Here we will select or adjust our levels depending where we are beginning or advancing to.
Under this section is the "Sound Set Up". Here is we want to check to make sure we are properly set up before we begin this software.

(This is where we want to make sure the
USB MIDI Music Cable is hooked up to our keyboard and computer.) It s
hould look a little something like the next picture.
After we are properly set up and we have tested our keyboard we can move on and let fun begin. Now heading back to the first lesson by going back to the main screen where we can
see and meet the composer
teaching our first lesson.
After we completed our first lesson and so on, the page lit up and all five circles became green and we were able to go in and work each of them as often as we wanted to.
Fun for the kids. I enjoyed hearing my youngest in her excitement yell at me

(right next to her)

, "I did it mommy, I did it!"
Mission Accomplished!
Not only are the kids learning to play the keyboard/piano. My kids are interacting, having fun learning about music, history of music and composers. My youngest really likes Beethoven and his music. She has never heard of him until now. :) This is super!
I should also note that you can find additional resources and materials over here at the
parent/teacher material blog.
Despite the glitches in the beginning, I definitely will recommend this product and I hope to use this again in the future. Only I am seriously considering purchasing the Disc version next time, (giggles). We are enjoying this software. I enjoy watching my kids interact and have fun while they are learning. This really is a fun, interacting animated music software. My kids are really enjoying the time they are using it.
Have you used the
Children's Music Journey Volume or any other program offered by
MusIQ Homeschool? I would love to hear from you and what your feedback is. Please leave a comment below this post. If you would like to read what others are saying about this review, please click the attached button below to the SchoolHouse Review Crew.