Our review on
At Home in Dogwood Mudhole
"Life here on the farm is unpredictable,
hard in so many unsuspected ways,
but never as hard as it used to be."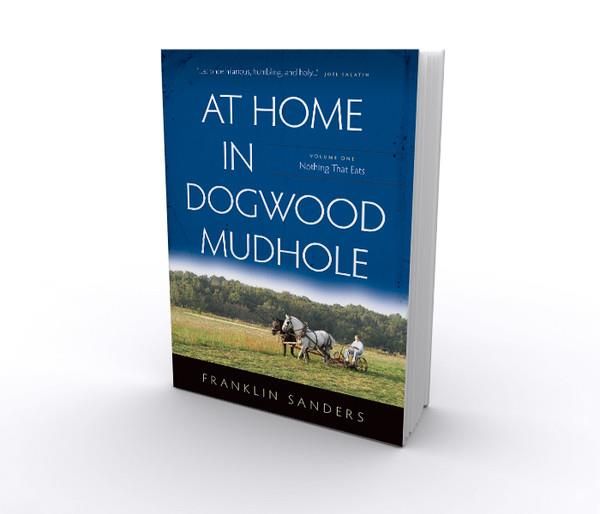 This is one review I could not wait to read being that our family is working towards a similar goal. I honestly had a few interruptions reading this book with a previous family emergency, but I still pressed on.

At Home in Dogwood Mudhole

is about the family of Franklin Sanders, their faith journey in bringing their dreams of living life on the land and farming to life.
Through courage, wisdom, his Christian faith, some challenges and family adventures along with added humor, Mr. Sanders shares with readers the experiences he and his family faced while bringing their dreams alive.
I should probably note that the Sanders family includes: Franklin, his wife and seven children and their spouses and families making the farm a multigenerational farm. All of them starting off on an adventure to a self sufficient country lifestyle. This decision to move to the country was inspired by the threat of what might of happened at Y2K. (Most of us remember the panic that ripped across the country.) Despite the fact that Susan, his wife, did not want to acquire anything that eats, the family gained dogs, chickens, horses, cows, pigs, ducks and sheep.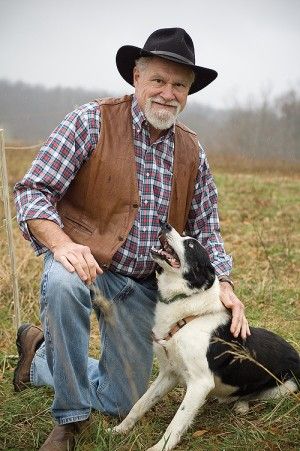 Franklin Sanders from At Home in Dogwood Mudhole
writes his books from a collection of personal letters compiled from 17 years of his own words to his readers in his newsletter, the Money Changer. Mr. Franklin, his wife and family not only dreamed about what they wanted to do, they persistently worked towards bringing this dream to life and learned to farm. Through out each chapter he shares about there adventures and faith in the daily challenges. In great details he shares about their family adventures to places they have visited along with addresses and specific locations. The chapters are fairly short and some chapters share some pictures.
You can get this book
At Home in Dogwood Mudhole
Volume One or Volume Two in

paperback for $22.95

or you can purchase a

download for kindle/epub/pdf for $16.95.

There are three volumes for

At Home in Dogwood Mudhole.
We had the choice to receive ebook or the physical soft-back book to read for this review. We chose the physical book which has a total of 379 pages. In the beginning he talks about the move to Dogwood Mudhole. When I first read the name, I thought he was joking. LOL. I have never heard of this place in Tennessee. I have family who lives in Tennessee that we visit often. Actually most of my family is from there, so this name really took me by surprise.
This book is full of inspiring stories, encouragement, wisdom and fun - humorous adventures that make for a great read for teens and adults.
I really enjoyed how each chapter really kept your interest. At times I found myself getting a little loud in my reading, laughing out loud at the chapter I was on. Not only were there some pretty funny moments, there were some moving, intense moments as well. He really keeps you engaged wondering what is he going to say next or what will happen next. I really enjoyed reading this book. Ordinary things that maybe you or I may see as one way, he paints a total different picture.
One instance is n
ear the beginning of the book, he made a great point when he noted that the name Dogwood Mudhole serves as a metaphor and a reminder of our condition, the world lost but heaven promised,
"In the depths of mud, there is grace. Out of grace grows a garden." -- Let's be honest, would you of said or thought that way about Dogwood Mudhole? I totally did not see it that way at first until he put it that way.
This book was very insightful and encouraging. I learned a lot through this book and even challenged me to be a bit more open minded. What I really like about this book is that it's not only about the challenges of farming or making a dreams come to life, but it also relates to family and faith.
If you would like to see what everyone else has to say about this book please click the review crew button below.

------------------------------------------------------------------------
Temporary offer from the Sanders Family:
On behalf of the Sanders family, thank you for taking the time to read the book and post your review. We would like to let your readers know they can get free shipping (for up to 2 books, to US addresses only) by using the discount code TOSFREE at checkout. Thanks again, and God bless! on At Home in Dogwood Mudhole Review