Our Review for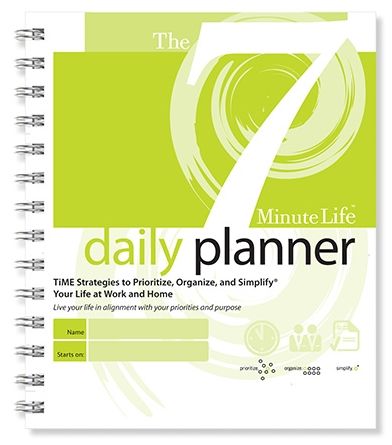 How many of us moms/dads could use
some help in time managing?
Lets just be honest with ourselves, probably most all of us adults need a little extra help.
(giggles)
. I feel I should note that I was in desperate need of time managing help. Man I think managing anything in general. Lol. The last 3 years of our life has been sheer chaos between our usual agenda, our grandmother taking ill to nearly losing her and then adding several loads on top of it. I mean sometimes I feel like I am walking around in a nut-house in my mind. So when we were selected to review
The 7 Minute Life™ Daily Planner,
I was totally stoked and confident that I may be on mends. Do you know how hard it is to force yourself to change in to a routine and manage everything when your all over the place? Who am I kidding, I'll just bet that you understand what I mean.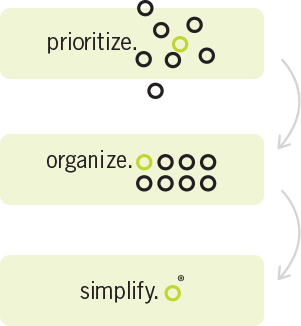 When we got the planner in the mail, it is a spiraled planner that is about a half inch thick. Lord, my eyes got big when I first seen how thick it was. It is not really thick but when your life is jam packed like mine, it becomes thicker then thick. :) So my first reaction was, "O, I am not so sure about this. This may be a bit much for me right now." Yes, I did try to sucker myself out of this one. Lol. But when I started glancing through it, I nearly cried and I did smile about the same time, because I truly needed this planner to get my life back on track. Not only is this planner helping me manage my time, I'm back to prioritizing, beginning to set goals and frequently adding to the ones I made. It is helping me become better organized and I am beginning to simplify, slowly, my own life and trying to teach my family as I learn. WOWH! On a serious note, after the last 3 years and feeling overwhelmed to merely exhausted all of the time, living in a complete fog with scatter brained moments - often, this planner comes and finally I am beginning to feel some what relieved.
(Thank you)
I got a ways to go but at least I am on finding my way back on track. If you are interested in this planner, you might want to check out the
Getting Started on 7 Minute Life Planner
.
This planner is great, not only is it spiral, but when you open up their are pockets, like a folder, in the front and back of the planner. It is detailed, about 10 pages of introduction explaining how to use the planner. In the getting started section she notes, THINK.. WRITE.. DO..
Let me see, I think ok. I write ok, but I lose what I write. I do sometimes because I forget what I was supposed to do. This is going to be tricky... I think I just need a sticky note glued to me. Lol.. The obstacle of this section I had to master is not losing my list. At first I did misplace my planner but thank God I found this life line. Lol. Yes this is how easily I can become scattered, but I am pleased to say I am getting better. I have a designated spot my planner has to be left every night so I know where to find it in the morning. I paper clip loose papers to the folder of my planner and keep a pad of paper under my planner every night. I have to do this or this would be an other loss cause.
Let me just say, all of our lives are chaotic to some level. When we think we have it all together, the unexpected happens and we are spiraling out of control and sometimes it takes a while before we realize how out of control we are. Or sometimes we know it is out of control but we dont know how to fix it. Ultimately the bottom line is, are we willing to fix it? This means making a change which takes effort from us. The first herdle we have to master is choosing the change. And this is another point that she makes in the planner introduction. In order for this planner to work right, we have to make the choice to change. We have to implement the steps we are given in order for us to see the results. So if you are in a situation similar to our family, but you are not willing to make a change at this time, bookmark this information for when you are ready.
Through out the introduction not only does she explain the purpose of this planner but she also helps you to find motivation to use this planner and there are other encouraging aspects through out the introduction, like helping you to find you purpose in life. Really inspiring and insightful. The first probably 20-30 pages of the planner help you to prioritize, set goals, to list the tasks to complete, annual projects and home repair, grocery lists and taking a look ahead at your calendar. There is an appointment section to keep track of all your appointments, a daily progress report section that continues through out the rest of the planner. This planner is defintely glued to my side now and as I said earlier, I am not quite there yet but at least I am on the right path and working to make my life as well as my families life more simple and organized. To note: A Happy Mom makes a Happy Family.. :)
This planner is a great planner to use, again when you have made the choice to manage your life better. You can view more tools on this planner and
purchase this planner here
(scroll to bottom)
for $24.95
not including s/h. Also there are more videos about
how you can use this planner here
. Yes I would recommend this planner for use. It will take some time to adjust to, but it is well worth it.
You can find and follow the
The 7 Minute Life
on Social Media:
Find out what others on the review crew are saying about this planner by clicking the attached crew link below the disclaimer.