We did a review for
Apologia Educational Ministries and their Christian Apologitics iWitness books. The iWitness series is a way of presenting scholarly material in a fun and visually rich way for people who are interested in the answers but are turned off by scholarly books. Through these books the evidence is presented and you will get to do the investigation. All you are asked to do is think through the information.
We received the following three books: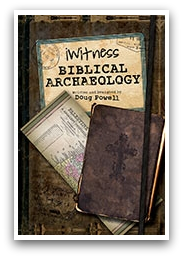 iWitness Biblical Archaeology
Names, places or events they are all part of God's revelation of Himself to all of us. For centuries a lot of these places and people were lost to history and were only known through scripture. Now you can read about how archaeological discoveries are revealing the Bible to be accurate. In this book you get to go in the field and experience these important finds.
This book is $14.00 not including s/h.

This book is a fairly thin book.
How is the Old Testament different from the Hebrew Bible? Who wrote the ancient books? Is it mythology of history? Questions like these and others are discussed through a visual tour of Jewish history, their tradition and we can learn why the Old Testament is the Word of God, all inside this book.
This book is $14.00 not including s/h.

This book is a fairly thin book.
Have you ever wondered who

wrote the New Testament? How can we know if we have the original text? In this book we will uncover the truth through a visual presentation of history and information of the canon. This allowing you to follow all the evidence and decide for yourself.
This book is $14.00 not including s/h.

This book is a fairly thin book.
The author of iWitness books is Doug Powell. He was born in Concord, Massachusetts but grew up in Oklahoma where he earned a BFA in graphic design for OU. Later receiving a masters degree in Christian apologetics from Biola University. He is the art director for Apologia and the author of the best-selling Holman QuickSource Guide to Christian Apologetics.
Doug is also a recording artist with nine records to his credit. He has appeared on Late Night with Conan O'Brien, CNN, and NPR.
He has contributed to both The Apologetics Study Bible and The Apologetics Study Bible for Students.
To read a full interview on Doug Powell please click this attached link:
Christian Aplogetics for students and adult:. An interview with the author.
These books do exactly what Doug Powell intended them to do. Pull the reader in to the book and encourage them to be the investigator. When I first opened the books I was skeptical because of the scroll like font that was chosen for the books. Although it makes the book more interesting it can also make it more difficult to read at times. These books are certainly engaging and draw you in to each mystery. My oldest (16) and I read through each of the books and we enjoyed them. I did not have my younger ones to read them at the time of the review as I knew they would be full of more questions with some of the books detail being a little more over their head. Overall we really enjoyed these books.
Other members on our crew are reviewing for Apologia, find out what they have to say by clicking the attached crew banner below.