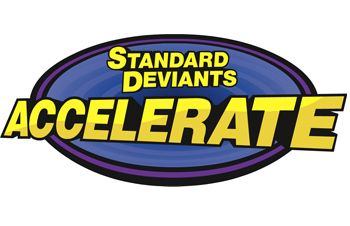 We were given an annual subscription to
Standard Deviants Accelerate Homeschool Courses
for a review. This is a online subscription to all of their courses for multiple students. The lessons start out using video content, then you can print the remainder of the lesson off to be completed. Most assignments are automatically graded, those that are not, parent accounts are easily customized and make grading fairly easy.
The site is fairly easy to work around. Once you log in you select the courses you will be using and they save your subjects in one location, you select the subject your students will begin and then select the lesson to begin.
Their courses are for grades 3 up to high school and the subjects included:
Arithmetic
•
Fundamental Math
•
Science
•
Nutrition
•
Algebra
•
Biology
•
Chemistry
•
English Comp.
•
U.S. History
•
AP Biolody
•
AP Chemistry
•
AP U.S. Government & Politics
•
AP U.S. History
•
AP Eng. Composition
•
Also offer Test Prep courses
.
Parent Accounts include access to:
Grade Reports
•
Editable Scoring
•
Track
Progress
•
Rubrics
•
Recieve
Red Flag Alerts
Student Accounts
include
access to:
Video lessons
•
Assignments
•
A print function
•
A note taking feature
•
Automatic grading of
tests
and
quizzes
•
They can message their parent for
help on lessons. (see video below on students).
Our oldest is using this in place of a few subjects she was short. We use it through our 4 day school week. She started out with AP American Government, she has not begun any of the other subjects as we wanted to focus on one subject for review. She is a tad behind because our computer went down for little over a week, thanks to daddy and working hard to get us back up she will finally be able to catch up and continue her work. My oldest likes the online courses but she prefers the book in her hands and working through her books.
She learns well visually but she still likes the books in her hands. These courses work great for her replacement subjects and she will continue to use this and I will add my 9 yo on to one or two of the subjects that she is struggling in to see if this helps some. All in all we do like the
Standard Deviants Accelerate Homeschool Course.
Find out what others on our review crew are saying about Standard Deviants Accelerate
by clicking the review crew banner below.