We recieved a copy of
David Nicholson story book
If He Had Not Come
to review. This book is a thin book that
is updated in print and
beautifully illustrated in color.
The original author of
If He Had Not Come
was Nan F. Weeks, little is know about her other then she was a teacher and writer of stories and curriculum for children. The original version of this story in 1938 was published and included in an anthology called Christ in the Fine Arts, by Cynthia Maus.
When
David Nicholson's
children were young and in Sunday School, he heard this story and after many years of reading this to his family he wanted to reintroduce it to today's generation of family readers.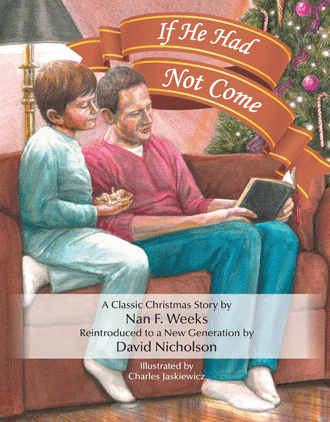 This book is about a boy named Bobby who is eager to celebrate Christmas and open gifts on Christmas morning. Before bedtime on Christmas Eve, he and his father sit down and read the bible turning to John 15:22, "If He Had Not Come."
Soon after Bobby drifts off to sleep and wakes up on what is thought to be Christmas morning. The story begins to take a look at life and what it would of been, "If He had not come."
When Bobby wakes up, he wakes up to see no evidence of Christmas. Feeling confused and scared Bobby goest to town asking what was going on? He tries to explain it is Christmas, Jesus' birthday but no one in town knew anything about this Christmas celebration or birth of Jesus. As he gazed at the town he notices that the church, children's home and hosptial are now gone. Bobby then turns towards home. Once he arrived he picks up his father's Bible, they read from the previous night. He opens it up in John only to read the words, "If He Had Not Come.
This book really puts in to perspective a world with out Christ. Not only is this a very good book to read and start a new family tradition around the holidays. This book is a very good conversation starter. Definitely will be sharing this book with others. I have already purchased an other copy for friend of our family. I have never heard about this book until this review and I am truly grateful for this opportunity to read this book again at Christmas.
This book is a hard cover book and in size it is 8.5 x11. This book is for children age 6 and up.

A hard cover book is $18.95 no including s/h, an ebook copy is $3.99

. To order a copy of this book click here.
Other crew memebers are reviewing this book, click the banner button below to see what they have to say.
Check out there social media page below:
Facebook: http://www.facebook.com/pages/If-He-Had-Not-Come/1543755249189773?ref=tn_tnmn