We did a review for
Fascinating Education
online curriculum. We recieved one course to use for a full year of use. We had a choice of Chemistry, Biology or Physics. We chose the
Fascinating Physics.
This online course would be a good alternative for for anyone looking to prepare for upcoming course or school year in the noted science being offered.

What is
Fascinating Education?
It is an online curriculum that uses an audio-visual approach to teach the course of science you are learning with plain english and a clear illustration. This program was designed by Dr. Sheldon Margulies who is a neurologist and a author that studied how the brain works along with effective teaching methods. His program has been tested in various schools and results showed increased testing scores. To read more about this program and Dr. Sheldon Margulies research please click here.
About
Fascinating Physics:
Physics studies the orgin of matter, laws of motion, electricity, magnestism, sound, energy and atoms. There are 15 lessons in this course and lessons are suggested to take between 45-60 minutes. When you get to the site, log in and you are able to begin the lesson right away. Your student can repeat the lessons for a review if they want to.
I should probably note that the physics includes a lot of higher math like geometry and trigonomtry. So depending on the level of math your student is working and or if your student struggles with the higher math, I just want to put this out front - there is a lot of math. That is good and that is bad. It is good for the student who accelled in the higher math and bad for the student who struggled a little. That would be my daughter, she did struggle a little with some of the math and we had to pause just to head over and refigure that math. Trigonometry is not her best subject. Although she worked this our 4 day work week she took a bit longer then most would because of her struggle with the math.
Once each lesson is completed there is a test. Tests can be printed off and used or you can opt to complete the test online. My daughter prefers paper in hand. There is access for the teacher to log in and view answer keys.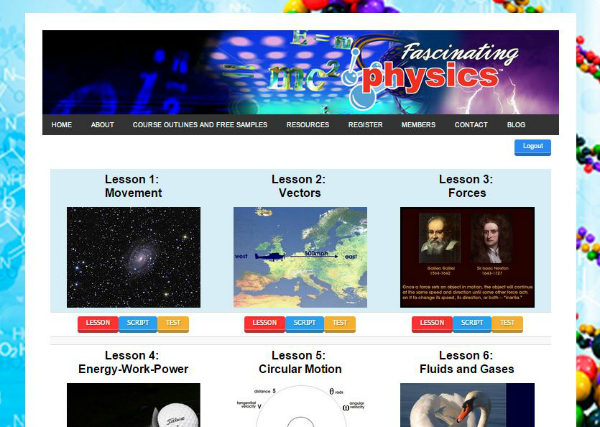 I see a little more recapping in our future on this physics. Although it is a good approach, I think this was just a bit above my daughter's head. She struggled through out using this course. Especially in the math, having to pause on some of the problems.
Fascinating Physics
is

$79 for a year long access,

per student. They do offer discount packages here. This program is for high school aged students, but depending on the course you choose it can be used with middle school aged students. You can sign up to try a sample lesson by clicking here. We like the program and believe it would be a great program for anyone to use. I would definitely recommend it to others for use.
Other crew members are reviewing for Fascinating Education, fnd out what they have to say by clicking the crew button below the disclaimer.