Our recent review is for:
Classical Academic Press. This is our second review this year for their curriculum. The first review was super fun with my little ones learning Spanish. (We love it and still use by the way.) When this product arrived, needless to say, I was really curious about how my oldest would respond to this material. Thus far, I am really enjoying the material this company offers.
The Discovery of Deduction Curriculum
will teach formal, deductive logic.
What is formal logic?
Formal logic teaches how an argument is put together by the form or structure of an argument. Rather than encourage arguing, we learn here from the Greeks to teach the logic or reasoning over argumentation. (Just what I needed from my High School Teen, to try and out smart her parents during moments like these.) (giggles)
The teacher's edition to "The Discovery of Deduction, includes the entire student text, along with answer key, teaching tips, dialogues and arguments, and sample essays.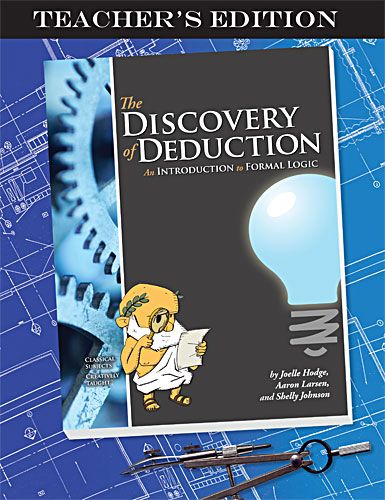 You can download sample lessons in this link.
This book retails for $29.95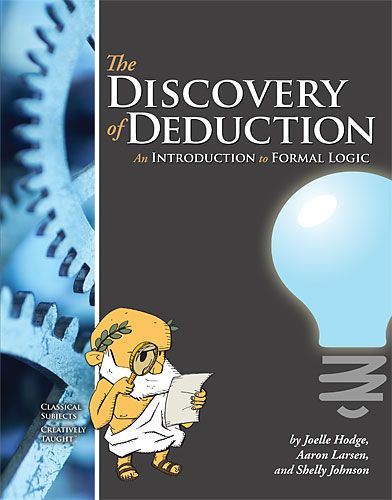 You can download sample lessons in this link
This book retails for $26.95
Here I have added a copy of the Contents page to give you an idea of each chapter.
Over on
their resource page
they have noted some
FREE
resources that go along with their curriculum. On this page under the Logic section, you can download the
suggested schedule
to use along with this material.
The schedule contains a suggested schedule for a semester long course (18 weeks) or a year long course (36 weeks). It also includes room for quizzes and tests, but
Classical Academic Press
notes these are not available at this time.
Retails at $54.95
However, this was optional and we chose to post-pone the use of the dvd set for a later time to concentrate on this curriculum.
The chapters are not very long at all! They are broken up by lessons which is a huge plus in my book!
In this book there are a total of: 4 units, which are 9 chapters in all . The chapters in each unit break down the material into topics, and each chapter has anywhere from 3 - to - 8 lessons that go along with the chapter. Each lesson includes new reading material, definitions and exercises for students to practice using these concepts in arguments. (To note: There are a lot of words_terms to remember through out this book, you may want to have a journal and pen handy).
How we used this program: We used this material 4 days a week. Again we love that each lesson is not long at all. At the beginning of each lesson, we cover the "Points To Remember section." I gave my daughter the choice of high-lighting or taking notes. ( I always encourage note taking any time I can, since she is in High School.) She chose to note take. (smiles)
Our first lesson dealt on Formal Logic - vs - Informal Logic. Informal logic concentrates on evaluating the content of the argument and deals with the interchange of ideas between people in ordinary language arguments. Formal logic concentrates on understanding the argument and reasoning in the abstract. In this example below we learned that the formal logic studies how arguments are put together.
"All men are mortal. Socrates is a man. Therefore, Socrates is mortal."
Just a little piece of advice to you parents: I know some of us allow our older ones to go off on independent studies. In my own opinion -- this IS NOT an independent study material. One being it can come across a little confusing for your child and even for you. I recommend that you sit along side with your children while using this material. (For me personally, I usually am not a philosophical learner/person. Ha ha! But I enjoyed learning along side of my daughter and it really opened my eyes as a parent reading through some of this material as well as listening to my daughters thoughts in discussion. It gets you thinking about things we probably don't ordinarily think about. I will note my daughter's first comment made after reading through the first part of lesson one: "It's too bad you are doing this with me, I could really win some arguments with you and dad if you were not reading this to." (giggles, my sneaky mischievous teen, o help me!)
Notes from my teenage daughter: I like this book because it's useful to know and understand how to debate in arguments. I like that you are equipped and taught how to understand the difference between formal, informal and symbolic logic. I also like how it teaches you to properly use them in debates. I think that it also helps you to understand arguments from different perspectives.
I believe that everyone should learn how to use formal logic when approaching conversations or debates with different people. If we all knew a little about formal logic, it would come in handy because we would be able to better understand each other's view or opinions and we would be able to handle any differences in a more respectable manner.
My only problem with this book: I would prefer more of an easier approach on learning some of this material. I recommend more examples through out the lessons to help make it easier to understand. I would say to the writers, remember you are teaching younger students and some of this is sorta over the head, to speak. Focusing on more examples through out lessons will better help us students to understand what you are trying to say.
I
(mom posting again)
am interested in feedback from anyone else who may have used this material by
Classical Academic Press. If you would leave me a comment under this post, I would appreciate hearing your likes and or dislikes over this material.
If you would like to read what other moms are saying about this material, please click on the attached SchoolHouse Review Crew button below.