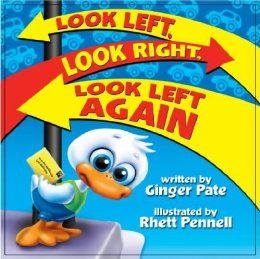 About
Greene Bark Press:
Greene Bark also offers other books to meet individual interests through out your family.
Some of their categories include the following:
Skillbuilder Card sets
About this book and what we thought.
All of my little ones read this book together and they have also individually picked this book up at separate times to read. I think this is a great book to read aloud together as a family and also a great reading book for beginners. This is a really cute book. My son
(7)
took to this book immediately, carrying it around giggling and re-reading it. He loves stories about animal characters. In fact, usually when he is amused he will giggle so loud and shout, this is cranking me up. (Usually meaning this is cracking me up, why he says cranking cracks us all up.) The colors through out the book are bold and eye catching. The characters if your children like animal like characters they will like this book.
This book is a short book about a little duckling who is in search of a mailbox to send a card to his grandma. In order to get to a mailbox he has to cross several road crossings and he is learning how to look both directions. This book is a rhyming book and at times can be tongue tied, LOL. But it is so cute and my kids just love it. My son pretty much took the book over. My youngest is still working on her reading but she enjoyed this book. After reading this book they talked peri
odically about it and often out of the blue about this book. When crossing a parking lot or street crossings, my son remembers the little meme, Look left, Look right, and then look left again, when we go to cross he belts it out in a loud voice. (I look down giggling) The things that amuse our kids today.. :)
I'm not really sure what else to say about this book other then it really was cute. If you are interested in this board book or want to check out some of the other board books, please Click Here to View All Board Books.
Other members of our crew are reviewing this book to, to read what they are saying please click the below attached link under the disclaimer.